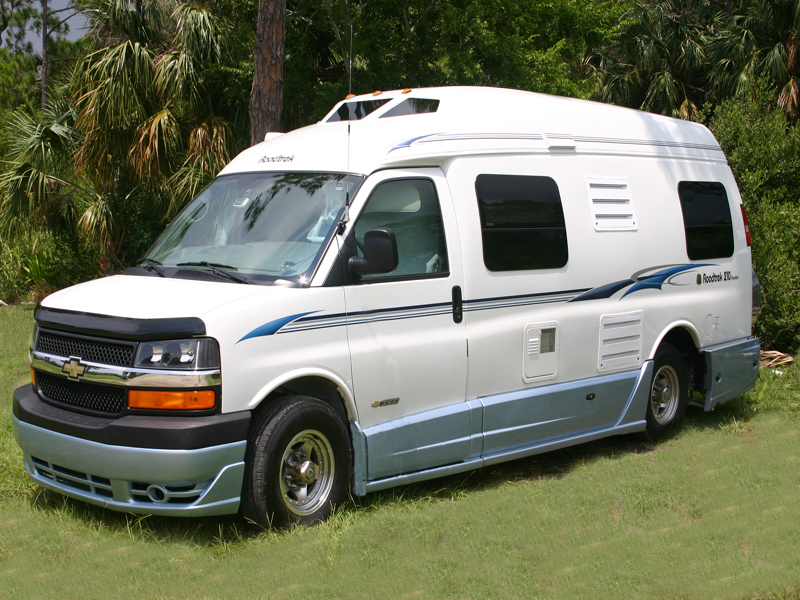 This is our RoadTrek 210 at Cedar Key Florida
210-Popular
The Ultimate Widebody Class B!
The 210 models represent the ultimate fusion of design, engineering and functionality in the class B segment. Built on the Chevrolet Express extended van, they are true class B motorhomes. It started with a full van body and then extend the frame 18" behind the rear wheels increasing the overall length to 21' 11". Then RoadTrek add a fully-painted steel-cage-reinforced fiberglass body. But the 210 is no "box on wheels" - after the cab, the body widens gradually to a maximum of 9" at the rear wheels then gently tapers to the rear. The 155" long wheelbase allows for amazing ride quality and handling without having to use dual rear wheels. RoadTrek retained the original Chevrolet side entry door and rear doors for easier loading, better air circulation, single door key and power locks.
Inside there's more of everything: more headroom (74"), more aisle width (32"), more room in the temporarily or permanently enclosed bathroom, more storage space, more sleeping area, a larger refrigerator (raised in the 210-Popular for easier access!), a large toast & bake microwave oven and an optional built-in coffee maker.
The exterior features a hidden storage compartment between the axles that's drawer mounted for easier access. Three additional drawers are mounted for easy access to auxiliary batteries, external connections and storage. A macerator sewage pump chops up solids and tissue in the black water tank and ejects the contents through a convenient 1¼" hose. No mess, no fuss - now that's convenient!

Taking advantage of the most "Popular" floor plan, the 210-Popular is the perfect model for those who want the ultimate in freedom. With forward facing seating for 3 at the front, the rear sleeping area features the luxurious space of a king-size bed or the convenience of twins.

So when you ask yourself "Where do I want to go today?", know that the 210-Popular has it all and then some.